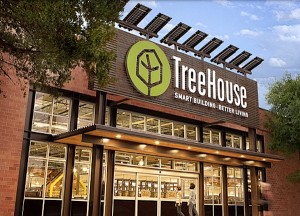 Jason Ballard remembers the time some guys from Home Depot came poking around in TreeHouse, his eco-conscious home-improvement store in a strip mall in southwest Austin. They were wearing suits and trying to act nonchalant, a ruse undercut by their questions to Ballard's employees. How much of this does the business keep in inventory? How much of that did it sell last week?
"So I marched up and said, 'Hey, I'm Jason! How can I help you?'" Ballard recalls. With a little small talk, he got them to say they were in town from Atlanta. Then he asked where they worked. They admitted they'd come from the big-box home-improvement giant. Ballard wished them well and cautioned his employees to say nothing more.
A wafer-thin 33-year-old with a deep East Texas drawl and boyish grin, Ballard doesn't look like a threat to Home Depot. So far, TreeHouse has only the one location. It is on track to do about $10 million in sales this year, compared with Home Depot's $83 billion.
But many of the most innovative brands in smart-home technology and sustainable design have embraced TreeHouse in a big way. TreeHouse is reportedly the largest single retailer of Nest products, for instance. It was among the first retail partners and is by far the largest of the much-admired Kentucky company Big Ass Fans. Perhaps most impressive, TreeHouse will be Tesla's sole retail partner for the launch of that company's highly anticipated Power Wall home battery.
https://www.tashman.com/wp-content/uploads/2014/07/head-logo.jpg
0
0
tashman
https://www.tashman.com/wp-content/uploads/2014/07/head-logo.jpg
tashman
2015-10-21 16:53:53
2015-10-21 16:53:53
Hipster Hardware Store in Austin Has the Big Box Stores Taking Notice